Turn Assessment into Action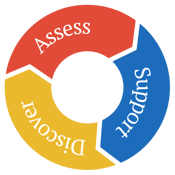 Turn your family assessment process into a customized parent engagement service through this one-of-a-kind solution!
When you partner with Parent Gauge and ParentPowered, we seamlessly leverage your Parent Gauge family engagement assessment data to curate a ParentPowered program that delivers trauma-informed activities and parent-requested resources directly to your Head Start and Early Head Start program families.
All without adding anything extra to your busy schedule.
Parent Gauge
a service of the National Head Start Association
Head Start leaders know that when parents and schools work together, students succeed. That's why they choose Parent Gauge for their family engagement assessment needs.
Parent Gauge is a family engagement assessment tool designed specifically for Head Start and Early Head Start programs. The easy-to-use tool automatically turns the parent assessment process into actionable data you can use to:
Improve the parent experience
Increase the impact of your program's engagement efforts
ParentPowered Trauma-Informed Family Engagement Program
The evidence-based ParentPowered approach makes it easy to deliver strengths-based supports directly into families' hands.
When you offer your families ParentPowered Trauma-Informed, they get a parenting curriculum designed to buffer the impact of ACEs with content aligned to the five protective factors.
And when you use Parent Gauge, families also receive links from ParentPowered and your program to the resources they say are most valuable to them. These can include health care, food access, housing, employment opportunities, and other essential supports.

Ready to offer Head Start families more targeted support?